Some of the most recognized global brands sell emotions, not products. EPIC Translations enables emotional and psychological connection with Italian customers, business partners, and employees so you can conduct business in Italy with ease.
Tesla sells status, not cars.
Nike sells motivation, not shoes.
Amul sells childhood, not dairy.
---
Increase Your Market Share in Italy
Looking to increase your company's market share in Italy? Your brand needs to win the hearts and minds of your stakeholders.
You'll be glad to know that at EPIC Translations, we do more than simply translate words.
Our 1,293 Italian translators have mastered the art of effectively communicating with Italian stakeholders.
We emotionally connect them to your brand; not just translate your product manuals. 
We keep them connected to your Italian website; not just localize your website copy.
We keep your Italian employees engaged with your company; not just translate your newsletters. 
We create confidence between you and your Italian business partners; not just translate your legal agreements.
All of this will allow you to emotionally and psychologically connect with your Italian customers, business partners, and employees so you can conduct your business in Italy with ease.  
---
Trustworthy Translations
Equal parts expressive and formal, our translations for the Italian market are crafted with compassion and trust, and our translators delicately balance the formal and colloquial to produce thoughtful, clear, and purposeful translations for a range of source materials, including: 
Product manuals

Website copy

Corporate newsletters

Legal agreements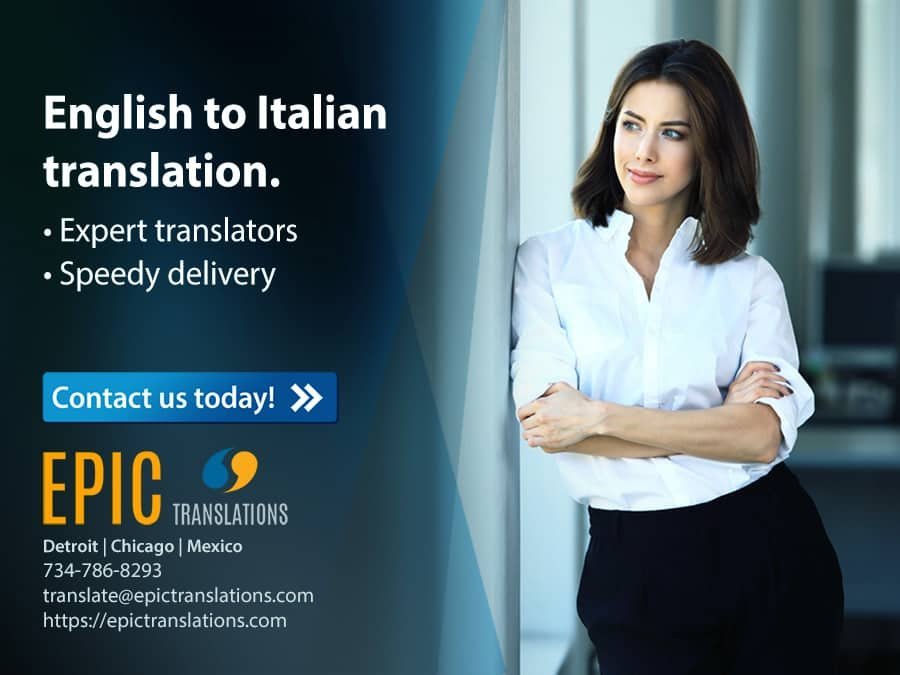 It is these carefully crafted Italian translations that will help your company in increasing its global market share and stay a few steps ahead of competitors.
Allora! With EPIC Translations and our 1,793 Italian translators, your translated product manuals will always capture your preferred communication style—and help you develop trusted business partnerships with Italian counterparts. 
Ready to dive in? Whether you've got a product catalogs, product manuals, engineering specs, or legal contracts, EPIC Translations is here to translate English to Italian for you so you can effectively communicate with your target audience in Italy!
Get in touch today for a quote! We can't wait to earn your business.