EPIC Translations is proud to announce the University of Michigan – School of Medicine has chosen EPIC Translations to translate their medical research surveys and other healthcare documents into more than 20 languages.
University of Michigan – School of Medicine — was founded in 1850 and is a pioneer in introducing modern science-based curriculum for physicians. They were one of the first leading medical schools to admit female students and other underrepresented groups. Therefore, they have a special place in medical educational history.
These pioneering achievements, along with several others, have helped the University of Michigan – School of Medicine as one of the top public medical schools in the country during more than 165 years of service to the medical profession.
Recently, Departments of Internal Medicine and Pediatrics, Michigan Medicine partnered with EPIC Translations to translate medical research surveys into 22 languages, including Amharic, Arabic, Dari, Pashto, Spanish, Russian, Burmese, Somali, Swahili, and French.
Understanding Knowledge of and Attitudes Towards Antimicrobial Use and Resistance in Refugees Resettled in the United States
The medical research study's goal was to better understand antibiotic use for respiratory symptoms in children and basic demographic information.
This study will be beneficial in assisting medical professionals in deciding how to best assist families in treating kids with respiratory problems. And although the questionnaire requested demographic data, it does not request any personally identifiable information that can be used to trace responses back to the participants. And all answers were anonymized.
For the duration of the study, all completed surveys will be kept in a locked container and only accessed when data analysis is necessary.

EPIC Translations—The Right Choice for Translation of Medical Research
Clients from all around the world know to count on EPIC Translations for our meticulous attention to detail, relentless pursuit of excellence, and impeccable reputation.
Because of this, our healthcare clients expect and receive attention to detail and commitment when they work with us to translate medical research studies and other healthcare documents.
EPIC Translations is your best option whether you're trying to translate a medical research study into multiple languages or trying to provide medical services to a segment of society who doesn't speak English as a first language.  
We have more than 20,000 human translators that can assist you in communicating in more than 150 languages at any time. They also have no trouble translating challenging queries from a medical research study. In the end, a win-win situation is created, allowing for the advancement of medicine and a greater positive impact on humanity.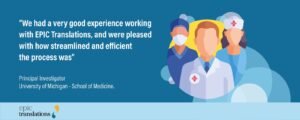 Fast and Accurate Translation Services
EPIC Translations is among the best in the world at translating documents into many languages, including medical research studies, product manuals, user instructions sheets, legal contracts, website copy, software, and marketing materials. 
"We had a very good experience working with EPIC Translations, and were pleased with how streamlined and efficient the process was" – Principal Investigator – University of Michigan – School of Medicine.
EPIC Translations helps  you interact with your global stakeholders by bringing speed and a strong operational infrastructure to the table without sacrificing accuracy. You can see this by looking at our current clients—like Novi Surgery Center, Maxcess International, Snap-on Business Solutions, Guardian Industries, and Crown Biosciences. We depend on our reputation to earn the trust of our new clients such as University of Michigan – School of Medicine. 
Do you need a quote for your translation project? Reach out to us today for a free and no-obligation quote at https://epictranslations.com/quote.