NEURAL MACHINE TRANSLATION SOFTWARE
---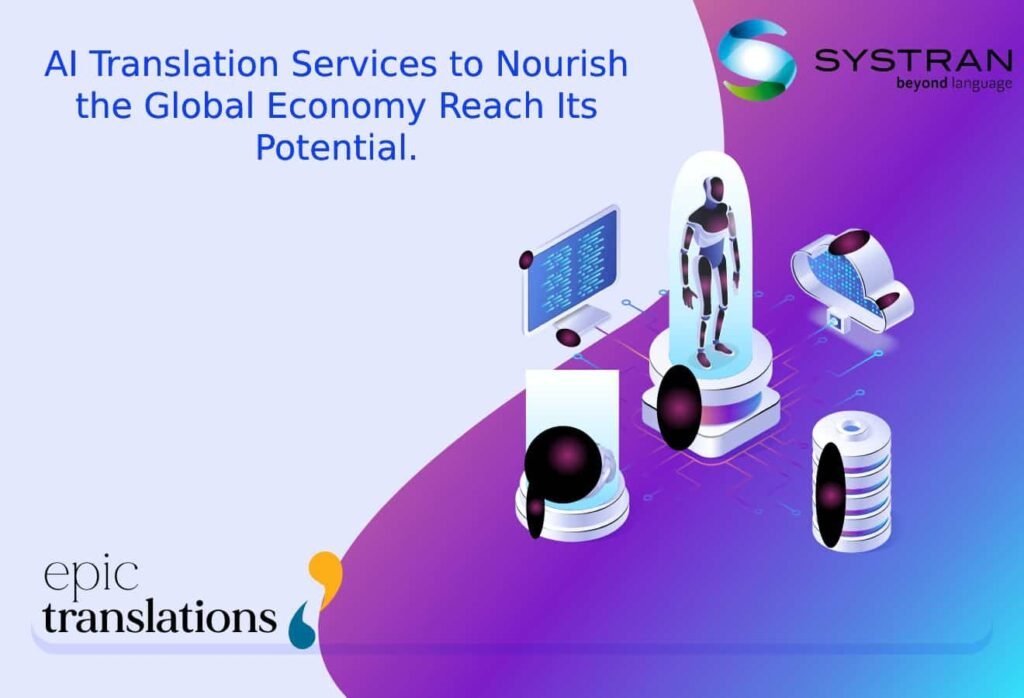 ---
EPIC Translations is proud to announce the availability of AI-based neural machine translation technology revolutionizing how global brands communicate. This AI-based neural machine translation technology is already trusted by governments and corporations worldwide. EPIC Translations is a Certified Partner and Value-Added Partner, and leaning on its experience in supporting global brands for any document translation need, EPIC Translations will provide expert assistance in customizing and implementing SYSTRAN'S neural machine translation (NMT) AI-based technology on behalf of organizations worldwide.
---
WHY USE OUR AI-based NMT TRANSLATION SOFTWARE?
Save 35% on your translation costs
Efficiency of AI-based machine translation technology
Continued access to experienced, expert human linguists available in real time
On-site enterprise server (optional)
Cloud solution (optional)


---
2 SOLUTIONS TO MEET YOUR NEEDS:
Cloud Solution
Translate documents, websites, email, and other content
Access to industry-specific (automotive, industrial automation, manufacturing, etc) translation engines
Create your own translation memories (TMs) and advanced dictionaries
Integrate our translation API directly into your own applications
---
DO YOU PROVIDE MACHINE TRANSLATION POST EDIT (MTPE) SERVICE?
Yes, we invite you to visit our MTPE page. You can contact us on this page to save 35% on your translation costs.
---
REQUEST A DEMO – NEURAL MACHINE TRANSLATION SOFTWARE
Whether you've got internal content or external content, our NMT Translation Tools will help you to save money and access human translators in real time. We invite you to demo our tools and see for yourself.
Please fill out the form below and we'll be in touch shortly. Or, give us a call at +1 (734) 786-8293.