Read more
Multilingual Video Subtitles
Notice
: Undefined index: user_fields in
/home/epictranslations/public_html/wp-content/plugins/wp-multilang/includes/abstracts/abstract-wpm-object.php
on line
73
Notice
: Undefined index: user_fields in
/home/epictranslations/public_html/wp-content/plugins/wp-multilang/includes/abstracts/abstract-wpm-object.php
on line
73
Notice
: Undefined index: user_fields in
/home/epictranslations/public_html/wp-content/plugins/wp-multilang/includes/abstracts/abstract-wpm-object.php
on line
73
Notice
: Undefined index: user_fields in
/home/epictranslations/public_html/wp-content/plugins/wp-multilang/includes/abstracts/abstract-wpm-object.php
on line
73
Notice
: Undefined index: user_fields in
/home/epictranslations/public_html/wp-content/plugins/wp-multilang/includes/abstracts/abstract-wpm-object.php
on line
73
Notice
: Undefined index: user_fields in
/home/epictranslations/public_html/wp-content/plugins/wp-multilang/includes/abstracts/abstract-wpm-object.php
on line
73
Notice
: Undefined index: user_fields in
/home/epictranslations/public_html/wp-content/plugins/wp-multilang/includes/abstracts/abstract-wpm-object.php
on line
73
Notice
: Undefined index: user_fields in
/home/epictranslations/public_html/wp-content/plugins/wp-multilang/includes/abstracts/abstract-wpm-object.php
on line
73
Notice
: Undefined index: user_fields in
/home/epictranslations/public_html/wp-content/plugins/wp-multilang/includes/abstracts/abstract-wpm-object.php
on line
73
Notice
: Undefined index: user_fields in
/home/epictranslations/public_html/wp-content/plugins/wp-multilang/includes/abstracts/abstract-wpm-object.php
on line
73
Notice
: Undefined index: user_fields in
/home/epictranslations/public_html/wp-content/plugins/wp-multilang/includes/abstracts/abstract-wpm-object.php
on line
73
Notice
: Undefined index: user_fields in
/home/epictranslations/public_html/wp-content/plugins/wp-multilang/includes/abstracts/abstract-wpm-object.php
on line
73
Notice
: Undefined index: user_fields in
/home/epictranslations/public_html/wp-content/plugins/wp-multilang/includes/abstracts/abstract-wpm-object.php
on line
73
Notice
: Undefined index: user_fields in
/home/epictranslations/public_html/wp-content/plugins/wp-multilang/includes/abstracts/abstract-wpm-object.php
on line
73
Notice
: Undefined index: user_fields in
/home/epictranslations/public_html/wp-content/plugins/wp-multilang/includes/abstracts/abstract-wpm-object.php
on line
73
Notice
: Undefined index: user_fields in
/home/epictranslations/public_html/wp-content/plugins/wp-multilang/includes/abstracts/abstract-wpm-object.php
on line
73
Notice
: Undefined index: user_fields in
/home/epictranslations/public_html/wp-content/plugins/wp-multilang/includes/abstracts/abstract-wpm-object.php
on line
73
Notice
: Undefined index: user_fields in
/home/epictranslations/public_html/wp-content/plugins/wp-multilang/includes/abstracts/abstract-wpm-object.php
on line
73
Notice
: Undefined index: user_fields in
/home/epictranslations/public_html/wp-content/plugins/wp-multilang/includes/abstracts/abstract-wpm-object.php
on line
73
Notice
: Undefined index: user_fields in
/home/epictranslations/public_html/wp-content/plugins/wp-multilang/includes/abstracts/abstract-wpm-object.php
on line
73
Notice
: Undefined index: user_fields in
/home/epictranslations/public_html/wp-content/plugins/wp-multilang/includes/abstracts/abstract-wpm-object.php
on line
73
Notice
: Undefined index: user_fields in
/home/epictranslations/public_html/wp-content/plugins/wp-multilang/includes/abstracts/abstract-wpm-object.php
on line
73
Notice
: Undefined index: user_fields in
/home/epictranslations/public_html/wp-content/plugins/wp-multilang/includes/abstracts/abstract-wpm-object.php
on line
73
Notice
: Undefined index: user_fields in
/home/epictranslations/public_html/wp-content/plugins/wp-multilang/includes/abstracts/abstract-wpm-object.php
on line
73
Notice
: Undefined index: user_fields in
/home/epictranslations/public_html/wp-content/plugins/wp-multilang/includes/abstracts/abstract-wpm-object.php
on line
73
Rotometrics is a tool-and-die maker based in the Midwest with facilities around the world.  They make tools and forms for a wide range of companies – the equipment they make is used in everything from medical devices to pharma to automobile production.
They had a message that they needed to get out to their employees, but with a workforce that spans the globe, getting the word out was going to be a challenge – many of their staff speak limited or no English, so they turned to EPIC Translations for help.
Rotometrics had put together a video featuring a short speech by the company CEO and other EVPs.  EPIC Translations transcribed and translated the video transcript into six languages to enable multilingual video subtitles:
Portuguese
Thai
German
Polish
With a team of over 20,000 human translators fluent in over 150 languages, we were able to quickly process the text translation phase adhering to ISO 17100:2015 translation workflow.
And since our human translators were already familiar with the company and the tool-and-die business in general, we had little trouble translating the specialized terminology – something that machine translation tools often struggle with.
We put the translations through a rigorous checking process, including two internal reviews. Once the translation phase was completed and approved, we then edited the source video to insert subtitles for each of the 6 languages.  The updated videos went through more reviews and testing by the linguistic teams as well as the client.
As a global brand, you will need to communicate with your stakeholders in multiple languages.  In this process, you need an experienced and reliable document translation service partner.
Translation is about more than exchanging words and rearranging them to account for grammar.  Languages reflect culture and history too, which is why experienced human translators are so valuable.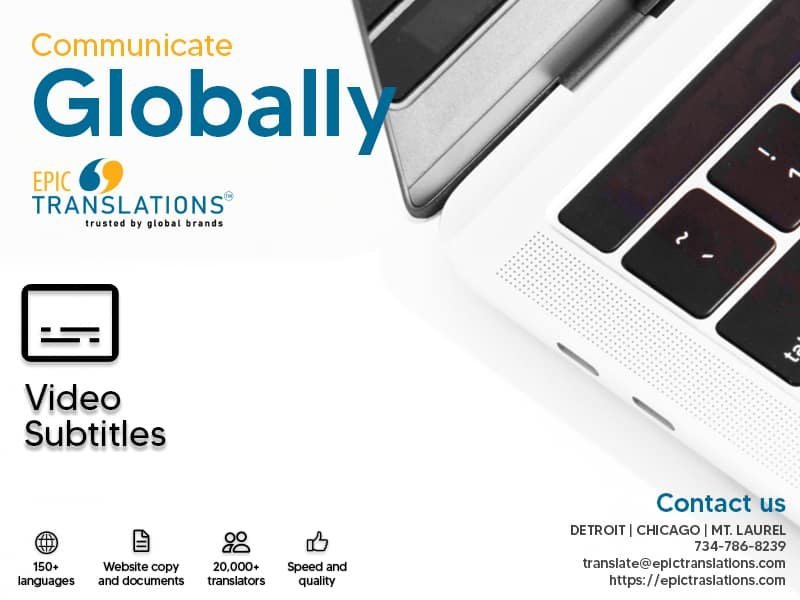 Our translators will get to know your business, and the culture of your audience.  The result will be a translated document that will both convey your information accurately and will have the effect you want it to have on your audience.

"We have used Epic Translations for our technical translations for years." says an executive at Rotometrics.  "They do excellent work.  With COVID-19 impacting our ability to meet in person, EPIC's ability to provide multilingual subtitle services has really helped us increase our touchpoints to our global employee workforce and provide company updates to keep all employees better informed.  Great job by Epic and absolutely the fastest turnaround time when speed is important."

With 15 years of experience EPIC Translations has the knowhow to make sure all your audiences – internal and external and whatever their native languages – understand your message clearly.

We have a well-developed, tested translation workflow for helping multinational brands that balances speed, accuracy, and understanding, so you can be sure your message gets out quickly and without translation errors.


Notice: Undefined index: user_fields in /home/epictranslations/public_html/wp-content/plugins/wp-multilang/includes/abstracts/abstract-wpm-object.php on line 73

Notice: Undefined index: user_fields in /home/epictranslations/public_html/wp-content/plugins/wp-multilang/includes/abstracts/abstract-wpm-object.php on line 73

Notice: Undefined index: user_fields in /home/epictranslations/public_html/wp-content/plugins/wp-multilang/includes/abstracts/abstract-wpm-object.php on line 73

Notice: Undefined index: user_fields in /home/epictranslations/public_html/wp-content/plugins/wp-multilang/includes/abstracts/abstract-wpm-object.php on line 73