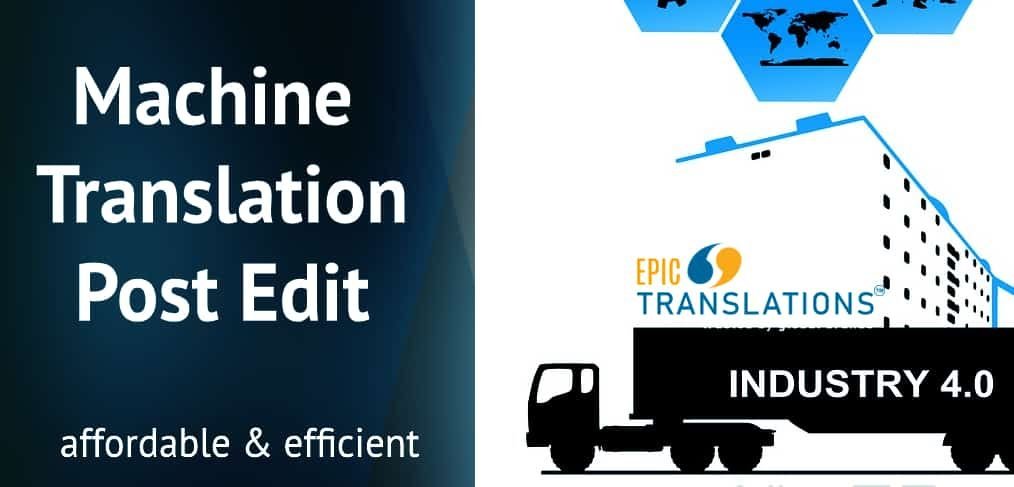 Read more
Machine Translation Post Edit Workflow by EPIC Translations Cuts Costs for Informal Content
We get it. Sometimes you need informal content processed through a machine translation followed by human editors. Machine Translation Post Edit (MTPE) can have an enormous influence on the internal relations within your company. See how EPIC Translations processed 6.3 million words within 6 weeks using our machine translation post edit workflow.
Various business units within your organization need to correctly understand the content being prVarious business units within your organization need to correctly understand the content being produced and processed, no matter the language. That is the benefit of our Machine Translation Post Edit (MTPE) service. Within the MTPE workflow, we employ machine translation for translating informal content in order to speed up delivery and cut costs. This is followed by human revisers to ensure your content can be consumed by your internal and external stakeholders.
Global brands such as RotoMetrics partner with EPIC Translations to successfully communicate with their global stakeholders. Click here to request a machine translation post edit quote and get 15% off. 
EPIC's MTPE workflow begins with the client's request for service. Once received, we start by normalizing the text. This process ensures that the machine translation tool will adequately understand your content.
After we normalize the text, it is processed through the machine translation tool. This AI based tool will provide a base translation for our human revisers to build on.
The next step of machine translation is the post-editing. With a deep interest in customer satisfaction and providing understandable MTPE processed documents to our clients, we use a two-person post-edit process.

The first step begins with a human reviser, who will take the text directly from the machine translation tool and make the needed corrections. Next, the file is processed through a second human reviser for further enhancements.
EPIC Translations does one last check of the document, ensuring that it is ready for consumption. Once we are satisfied with the quality, the final file is prepared and sent to the client.
Our process does not end there, however. After delivery, we seek out our client's feedback and make any necessary adjustments. EPIC Translations is a customer-first company deeply concerned with our customer's satisfaction. So, this final step is critical.
EPIC Translations' Machine Translation Post Edit (MTPE) service can bring an enormous benefit to your organization. Internal communications and relations are of the utmost importance for any global brand. When internal resources can understand your global text and documents, they will be able to execute their work more efficiently and accurately. MTPE can advance your internal operations and optimize human to human relations, and ultimately your entire business.
Contact us to learn more about the AI powered machine translation tool and to receive a quote 15% off on your MTPE project.