To succeed in today's global market, contextually accurate document translation is every bit as important as the quality of the product or service you are selling. For Chinese companies in the automotive, manufacturing, marketing and legal spaces looking for a competitive advantage, that means partnering with the right company that can deliver dependable Chinese to English translation.
A Chinese to English translation should connect with an English-speaking audience.
First, your message needs to hit all of the right notes in English. Next, it should be clear and culturally relevant.
Next, we have a roster of more than 20,000 human translators. Finally, we consistently provide quick and highly accurate translation services in a variety of languages based on our adherence to ISO 17100:2015 translation quality standard.
For those reasons and more, companies worldwide are choosing EPIC Translations for their document translation needs.
Here are four industries that should look to EPIC for Chinese to English translation services.
Car Makers
Proper Chinese to English translation is vital in the automotive industry. So if you cannot properly convey instructions and product specifications to an English-speaking audience, they will lose faith in you. Your driver's manuals, auto parts descriptions, stereo equipment directions for should be clear and accurate.
With EPIC Translations on your side, you'll receive expert Chinese to English translation services that deliver the right information — in the right way — to a market that doesn't speak your language.
Manufacturing
Recently, companies have begun to look to Chinese factories for highly quality, low-cost goods. So to stand out amongst the competition, it's imperative all of your documents receive an accurate Chinese to English translation.
This includes all of your product descriptions, instruction manuals, basic directions, packaging and more. If there are syntax errors or general grammatical mistakes, your clients stop trusting you. In fact, it's likely they will start looking elsewhere for their needs.
By partnering with EPIC Translations, you can rest easy! Your English-speaking clientele will always be able to fully understand what they're purchasing from you and how it can be used.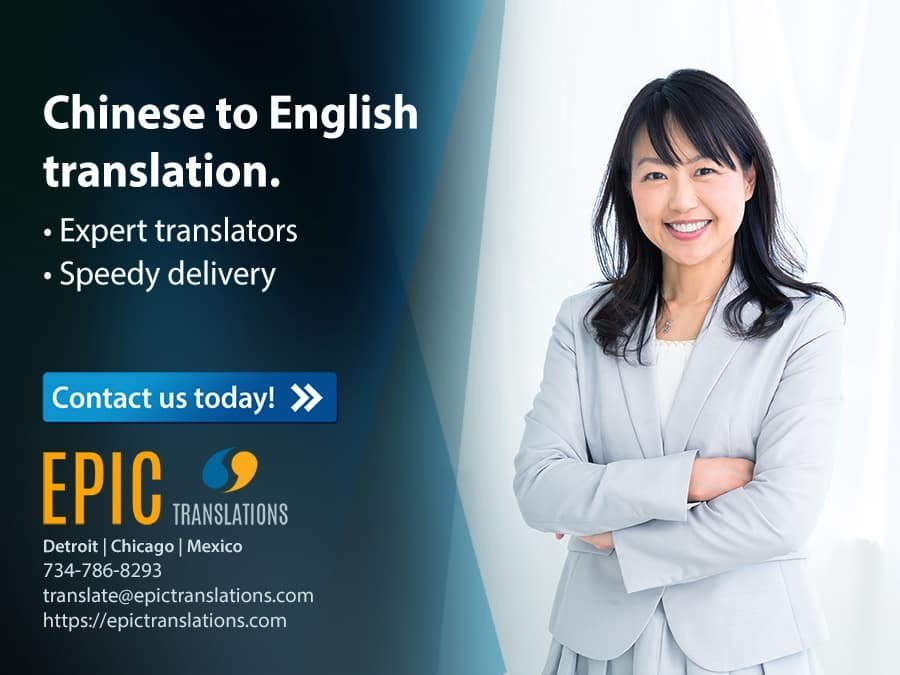 Advertising and Marketing
When marketing your products or services, nothing is more important than getting your Chinese to English translation exactly right. Culturally, so much of what we say and write doesn't translate well into another language. Any mistake can lead to wording that is nonsensical and best — and offensive at worst.
This is why EPIC Translations employs a staff of highly capable transcreation specialists. We ensure your marketing materials convey exactly what you want to say in a way that makes sense to your English-speaking audiences.
Legal
And when it comes to legal documents, word usage and choice must conform to highly specific and rigid standards. Misunderstandings and lawsuits can happen whenever Chinese to English translations are done incorrectly. This hurts both your profit margins and your global reputation.
When you partner with EPIC Translations, you can be assured that your legal documents will be fully understood by both parties, despite the language barriers between them.
Diverse Options
Companies across the world trust us for its turnkey solutions for document translation services. We can work with Chinese companies and organizations in a wide variety of capacities. So when you need document translation, website localization, desktop publishing or software localization expertise, consider EPIC. Some of the largest brands in the world rely on us! Our clients include automotive, manufacturing, marketing and legal firms all across the globe!
So when you want to ensure your Chinese to English translation is handled with perfection, turn to EPIC Translations!