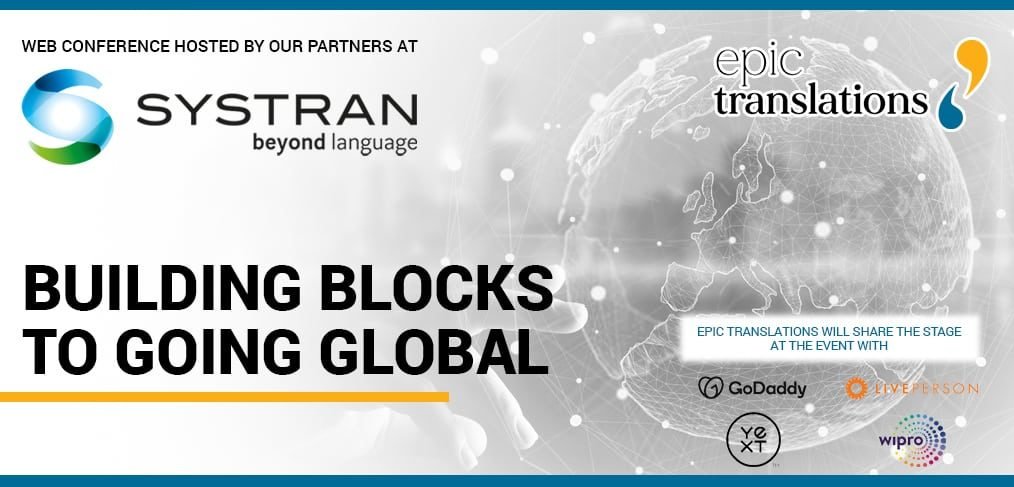 Read more
Building Blocks to Going Global
Join EPIC Translations and 8 other C-level globalization experts at this year's biggest event for SMB's! Building Blocks to Going Global. This event will take place on April 28th, 2021, Wednesday, at 9:00 am – 12:00 pm PDT. Register here: https://bit.ly/2RHOLko
We are excited to take part in an upcoming web conference hosted by our partners at Systran.  The "Building Blocks to Going Global" Conference scheduled for Wednesday April 28, will bring together well-respected companies with worldwide reach, like GoDaddy, LivePerson, YEXT, Eddy Pump, and EPIC Translations.
The conference will show small and medium-sized businesses how they can establish themselves in overseas markets, adapting their products, services, brands, and messaging for new markets around the globe.
Systran and EPIC Translations are together at the forefront of translation and localization services that help companies market themselves in new cultures and new languages. Systran is among the leading AI driven machine translation companies, and they have proven their ability to speed up communication across language boundaries, allowing companies and governments to communicate effortlessly with their stakeholders.
EPIC Translations is one of the world's leading document translation companies using human translators and Ai machine translation solutions. Our 20,000 plus translators are the perfect complement, providing a human understanding of context and deeper meanings that a computer cannot provide for the most sensitive documents or presentations.
EPIC Translations will make its own presentation on its "Human In The Loop" process, which combines machine translation and human input at multiple levels to provide fast translations that still account for the nuances of context and expression that come up every time people communicate.
EPIC's process begins and ends with human translator involvement. At the beginning key words and phrases are identified that are critical to your company, industry, and target market(s). This allows us to customize the AI based machine translation tool for your company and industry. At back end a human translator provides further refinement before we turn the finished translation over for internal and external consumption.
Small and medium sized business leaders are expected to attend "Building Blocks to Going Global" virtually, where they will learn more about "Human In The Loop" along with other services that can help them make the transition into global markets.
EPIC Translations will share the stage at the event with the following organizations:
Web service provider GoDaddy will talk about website development and international payment processing.
LivePerson will demonstrate its customer service chatbot technology and show it can be combined with machine translation to resolve customer issues across languages.
YEXT will show how it's cloud based system of search engines and software applications can help companies build their brands in overseas markets.
Eddy Pumps will show how it expanded into new markets. The family-owned company has used many of these same technologies as it found customers in Indonesia and the Middle East.
Amit Vikram of Wipro, an information technology company based in India, will talk about some of the pitfalls of international business, and how to avoid them.
As the world emerges from the COVID pandemic, new opportunities for global commerce are bound to emerge for companies that are prepared. New advances in communications and artificial intelligence — including AI driven machine translation tools from SysTrans — will make it even easier for companies to reach out to overseas markets.
But to do that you need a solid plan based on an up-to-date understanding of technology and other global elements and how they can affect trade, internationally and in your target market(s). Attending the "Building Blocks to Going Global" conference is one way to make sure you are up-to-speed.  Registration is free, and you can sign up at https://www.systran.us/going-global/.